Easy-to-Use Raised Flooring System
For booths, exhibits, and events
Envirodeck is a raised flooring system designed for the trade show and event industry. This easy to assemble floor allows you to run power and other cords underneath the tiles.
Each interlocking tile is 2' x 2' and weighs less than 9 pounds, so it can be assembled quickly and easily.
Once the Envirodeck tiles are in place, you can install your surface materials, such as rollable vinyl, EZ Down Planks or carpet.
Vehicles can be driven on top of the Envirodeck, but call us to discuss your project so we can all avoid those dreaded show floor surprises.
We offer squared metal edging so you can use the full surface area for your exhibit, as well as ADA compliant ramps.
Get the flexibility you want with our Envirodeck raised flooring.
If you want to purchase the easiest to assemble raised floor system in the trade show and event industry, our Envirodeck Metric is the perfect choice. 
These ½ meter tiles measure 19.6" x 19.6" inches, are 1 ¾" in height and offer 1" underneath for cords and wires. The 2 removable cord covers on each tile make connecting to your workstations and units on top of the floor a breeze. 
Beveled and straight edges are available for the perimeter, along with an ADA compliant Ramp. Add one of our eye-catching rollable vinyl styles and you're ready for the show! 
Envirodeck Specifications
Size: 2' x 2'
Cable Clearance: 1.5"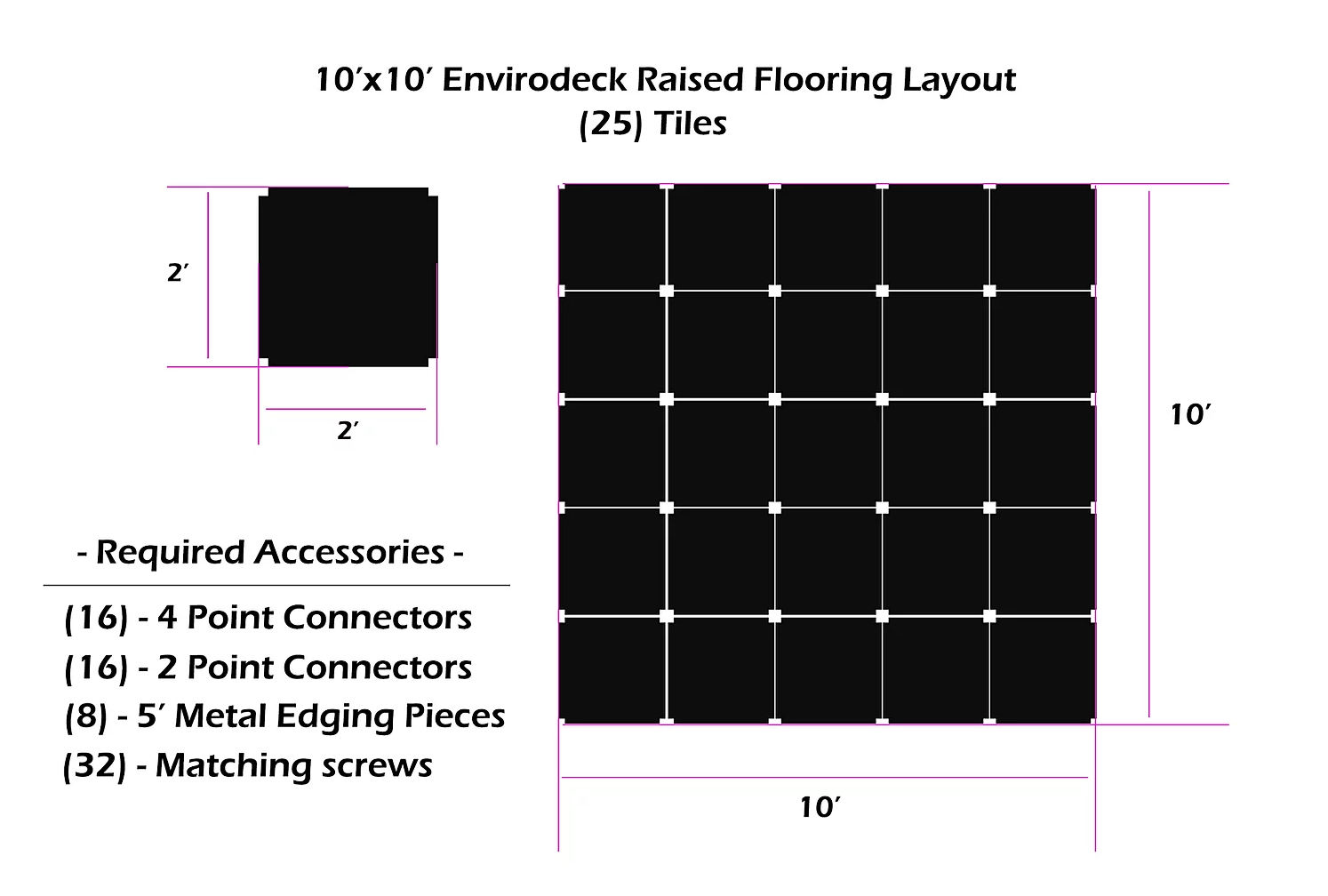 Metal edging corners must be cut onsite to properly fit over your substrate
Length: 5 ft
Material: Metal
Contact Us
Ready to get started? Our experienced team can answer your questions, start your order, or ship samples right to your door.