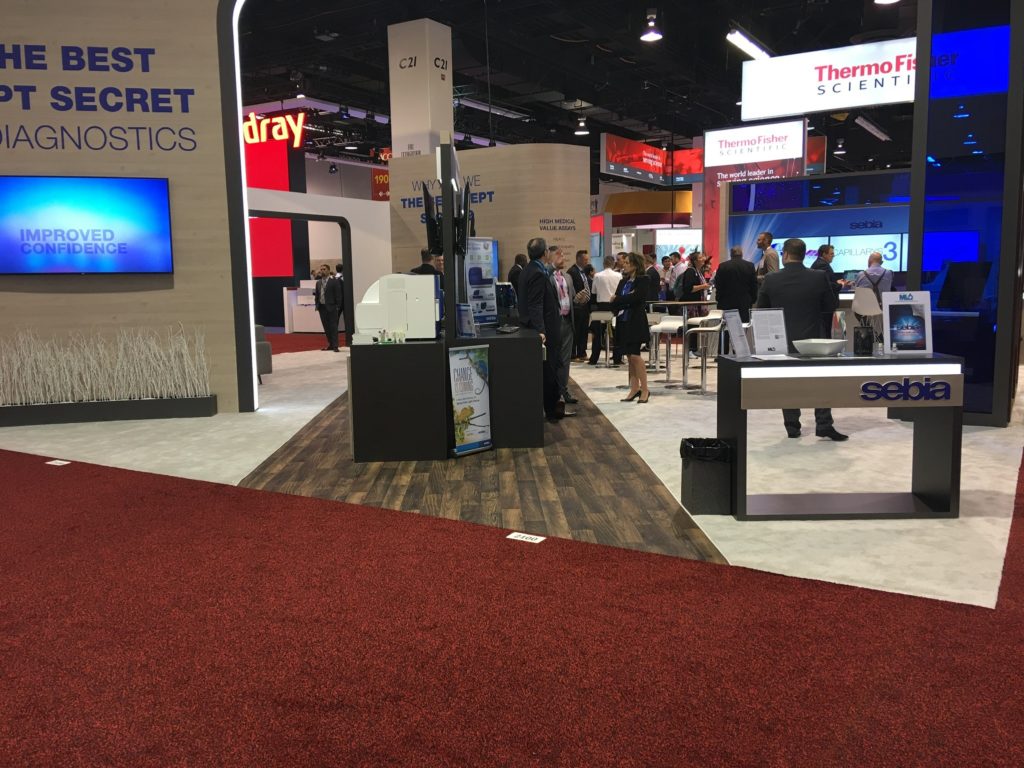 Q: My exhibit needs a refresh, and flooring seems like the easiest place to start. I'm not sure whether carpet or rolled vinyl is best for my needs. What are the pros and cons of each?
A: First of all, kudos to you for focusing on your exhibit's flooring. Our company has been providing flooring to the trade show and event industry for 25 years, and back when I started it seems that pretty much every exhibitor wanted only one thing: medium grey carpet. A booth's flooring is now often referred to as an exhibit's fifth wall, and for good reason: It's an empty canvas on which you can reinforce your booth's theme, create a cohesive environment, and grab attention.
While there are a lot of flooring choices these days, including wood planks and custom printed flooring, carpet and rollable vinyl remain the most popular choices due to their great value and range of style options. And there's no rule stating that you have to fully commit to one or the other. Incorporating a carpet inlay into your vinyl flooring, or vice versa, is a great way to call attention to specific products or points of interest in your exhibit. But to answer your question, here is a breakdown of what I consider the pros and cons of each flooring type.
Pros of Carpet
Carpeting is generally inexpensive to buy and rent, and it's simple to install. Simply roll it out over ½" rebond padding — assuming your underfloor electrical cords aren't too big in diameter — and you're done.
It can be easily modified and repaired. Say you need to place especially large or delicate machinery in your booth before the flooring is laid. It's much simpler to cut and seam carpet around the display models than to do so with vinyl. The same goes with on-site fixes. For example, if your carpet and padding is installed and there's a problem that requires reaching an electrical box in the floor, a section of carpet can be cut out and then reattached quite easily and with almost no visual eyesores.
Exhibitors can choose from a wide range of colors. And if a stock color isn't quite to your liking, nylon carpets can be custom dyed to match a specific PMS color. One time an exhibitor wanted yellow carpet to tie into their logo, and our stock yellow carpet wasn't bright enough, so their exhibit house requested a custom dyed carpet to get a hue that was almost neon yellow. It was such a hit that the client ordered it again the following year and handed out sunglasses to attendees when they arrived to the booth as a way to play off of their bright yellow flooring.
Cons of Carpet
It can be perceived as dated. Exhibits are all about branding, and sometimes carpet isn't a good fit because it may not fit the experience of the booth. If you sell cutting-edge hospital equipment, white carpet just doesn't translate to the environment the same as white vinyl.
Carpet is more expensive to clean. A typical on-site vacuum order for a 3 day show will cost around $3.00 per sq. ft. or $4,500 for a 30' x 50 exhibit, where as a Swiffer can quickly and quietly keep a vinyl floor looking great throughout the day by booth staff.
Large-scale custom printing takes time and money. If you want a truly custom carpet, say an all-over print of your company logo or a step-and-repeat pattern, be prepared for a long lead time — about 8 – 12 weeks — and a big bill, as there are only a few companies that do this type of work.
Pros of Vinyl
Vinyl has a cleaner and more hygienic image. Exhibitors and attendees are very focused on cleanliness right now, and for good reason. While a lot depends on what type of cleaning or sanitization services an exhibitor orders, in my experience vinyl is often perceived as being more hygienic.
Customization is a breeze. Want your entire floor to look like a builder's blueprint, freshly turned soil, or a video game screen? With vinyl flooring, the sky's the limit — and it can be done much faster and less expensively than a printed carpet.
It's great for capturing attention. Because vinyl often captures the eye faster than carpet, it can be easily customized, and is usually available in a variety of textures and finishes, it can be the simplest, most cost-effective way to maximize the potential of your exhibit's fifth wall.
Vinyl Cons
Installation can be more laborious. Vinyl often takes longer to install, as the specialty ¼" padding needs to be channeled to accommodate electrical cables. This can take a significant amount of time in a large booth or a stand with an elaborate electric plan.
You may need to account for high heels. If the electrical channeling is extensive or not done with precision, it's a good idea to add a second layer of ¼" padding on top of the channeled layer of ¼" padding , as this will help prevent high heels from poking through the vinyl.
It's more difficult to repair. Whereas sections of carpet can be easily cut and seamed together, vinyl tends to show where any "surgery" was performed, especially if it's custom printed.
—Dave Sterne, founder and CEO, The Inside Track Inc., Atlanta
Contact Us
Ready to get started? Our experienced team can answer your questions, start your order, or ship samples right to your door.