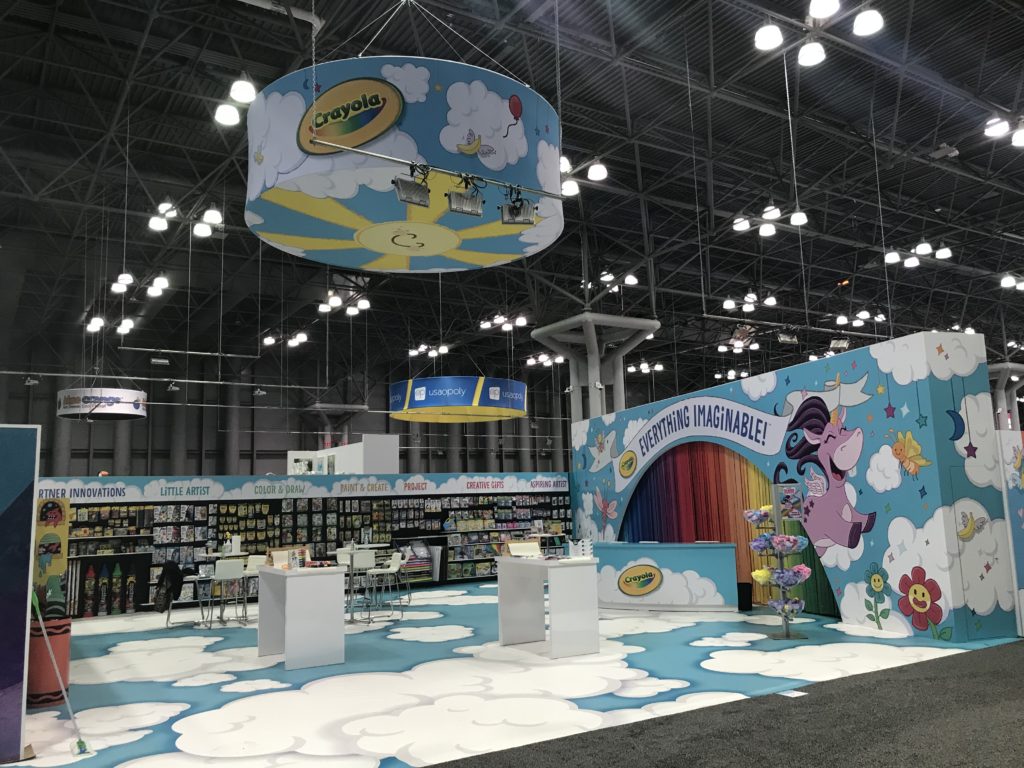 Custom Printed Flooring Q&A
What are the different types of custom printed flooring?
For trade shows and events, rollable vinyl flooring can be top printed on stock white rollable vinyl (EZ Image flooring) and some types of stock rollable vinyl can be printed on, such as lines to make a basketball court, yellow and white lines on top of black rollable vinyl to make a road etc). Top printed rollable vinyl is great for one time use projects. A more durable process is when your images are printed (in reverse) on the underside of clear rollable vinyl, called CPT (custom printed textured) flooring, which also has two coats of white ink applied on the back to help limit bleed through.
How wide and long can you print on each type of flooring?
Rollable vinyl can be printed on rolls that are up to 10' wide and up to 50' long. If you have a large area to cover that's not a problem, as the design can be printed over several rolls which line up onsite to make a large image.
How do you insure that the rolls will line up correctly at a trade show or event?
There are two things that make this possible. The first is to have a talented press operator that can make sure the print file is set up or "tiled" correctly. Once the rolls are printed, they need to be laid out side by side and inspected. If everything is correct, the rolls are numbered, rerolled and skidded.
Are there any adjustments that need to be made onsite?
Rollable vinyl can expand or contract with changes in the temperature. If any adjustment is needed, it's usually just ¼ of an inch or less, which can easily be done on show site.
Can electrical cords be used underneath rollable vinyl?
Yes, but there's a certain process you have to follow. The electrical cords have to be flat and then taped to the floor. Next you have to roll out ¼" – 12 lb. eco padding and then "channel" the padding, which means you cut out the padding on top of the cord, which will make the top of the cord level with the padding and eliminate any lumps in the padding. Some people choose to use 2 layers of ¼" padding and roll the 2nd layer over the bottom "channeled" layer, which gives you a smoother base for the rollable vinyl. This process is used when there are a lot of electrical cords in the exhibit or under the flooring.
How long does printed rollable vinyl last?
It depends on which type of rollable vinyl is used. When you top print on rollable vinyl such as the EZ Image Flooring, it's best to assume that it's a one-time use product for a 3 day indoor trade show or event. You'll want to cover the flooring with visqueen (heavy plastic sheeting) during the installation of your exhibit properties, and of course make sure that no one drags anything heavy across the top printed flooring before or during the event.
With CPT (Custom Printed Textured) flooring, the image is printed in reverse on the underside of clear rollable vinyl that's about as thick as a nickel, so foot traffic never comes in contact with the image. This type of flooring is used when you have multiple events or high foot traffic, such as in museums or retail settings.
Can custom printed flooring be used outside?
CPT Flooring can be used outside for 5 or 6 day events as long as it has our back track backing on it, which will help keep the ink from being scratched off the back. We also recommend using a temporary low profile 1" raised floor so you can be assured that you have a flat, clean and dry area to attached the flooring to using double faced tape.
There is also a product called Walk 'N Wall, which is designed to be top printed and it has an adhesive back that adheres to sidewalks and cement as long as the surfaces are clean and dry. The rolls are 4' wide and up to 82' long.
Do we need to provide artwork or can you make the art file for us?
Our clients send us the artwork, which we have our art director review to make sure the file is print ready
Can you provide PMS matching?
We can match PMS colors with both our CPT flooring as well as our EZ Image top printed flooring. Matching PMS colors with our CPT Flooring takes a little longer and costs a little more since the colors are printed on the underside of the clear rollable vinyl and will need to be manipulated.
Does CPT Flooring or EZ rollable vinyl have a non skid backing?
While neither flooring comes with a non-skid backing, a low residue adhesive is available for both products, and a low residue double faced tape can be used on the backs of both products as well.
What is the Lead time for custom printed vinyl?
Depending on size and style you need for your event, you'll want to allow 7-10 business days for production, as well as your shipping time.
Contact Us
Ready to get started? Our experienced team can answer your questions, start your order, or ship samples right to your door.